Do you currently have a child in school right now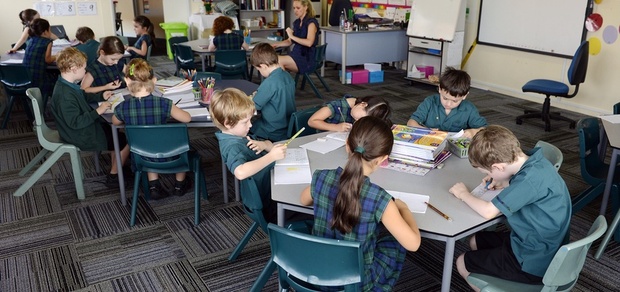 Do you currently have a child in school right now that you wish you could help better their learning environment and education? Their success of their education is mainly dependent on their environment. According to All4Ed.org, the conditions for learning are critical to the students' academic achievement, success, improved grades, test scores, strong attendance and positive relationships between teachers, adults and students. It is important to recognize signs that your student may need more of an encouraged learning environment. Many times, student may suffer in their education because they do not have the critical elements that are needed to create a positive learning environment. It may be something as small as changing out school furniture or changing the type of resources used in the classroom. Creating a positive learning environment is the best way to get your students to learn and stay motivated.
According to Psychcentral.com, in the United States, there is a 30 percent rate of students failing to graduate high school. What is even more shocking, is 50 to 70 percent of students fail to graduate in the urban settings. There needs to be more focus on how teachers and parents can work together in decreasing the number of children dropping out of high school. The numbers only continue to increase as every year passes. Students who have disabilities and children who live in poverty are more likely to experience high numbers in failing in their education. It is the obvious that many children tend to fail because of the lack of available resources and the lack of a positive environment to encourage learning.
To change the rapid numbers of students failing in their education, there needs to be change in their environment. It can start with simply changing their classroom furniture. There is furniture available that specialize in creating a more comfortable learning environment for students. For example, there are desks and chairs that are spacious and provide plenty of room for the student to sit comfortably and focus on their reading or writing. When a student tends to feel uncomfortable, they are less likely to want to sit and focus. Their focus becomes centered on how uncomfortable they feel. Take the time to research how you can incorporate better furniture that will facilitate a learning environment. You can conduct a search online for: Spectrum Furniture. These types of company specialize in creating designs for their furniture that help students learn better. In addition, think about having a fundraiser of some sort that can help with the costs of replacing furniture and possibly other resources like books and or computers.
Every year there are kids failing in their education. Parents and teachers should come together to work together in decreasing the dropout rates. These young students play a huge role in the future of the world. These young minds may be responsible for finding cures for cancers and even making miracles happen. Take the time to think about ways you can help change the lives of many students today.
manufacinst.info
manufacinst.info
manufacinst.info
manufacinst.info
manufacinst.info
manufacinst.info
manufacinst.info
manufacinst.info
manufacinst.info
manufacinst.info
manufacinst.info
manufacinst.info
manufacinst.info
manufacinst.info
manufacinst.info
manufacinst.info
manufacinst.info
manufacinst.info
manufacinst.info
manufacinst.info
manufacinst.info
manufacinst.info
manufacinst.info
manufacinst.info
manufacinst.info
manufacinst.info
manufacinst.info
manufacinst.info
manufacinst.info
manufacinst.info
manufacinst.info
manufacinst.info
manufacinst.info
manufacinst.info
manufacinst.info
manufacinst.info
manufacinst.info
manufacinst.info
manufacinst.info
manufacinst.info
manufacinst.info
manufacinst.info
manufacinst.info
manufacinst.info
manufacinst.info
manufacinst.info
manufacinst.info
manufacinst.info
manufacinst.info
manufacinst.info
manufacinst.info
manufacinst.info
manufacinst.info
manufacinst.info
manufacinst.info
manufacinst.info
manufacinst.info
manufacinst.info
manufacinst.info
manufacinst.info
manufacinst.info
manufacinst.info
manufacinst.info
manufacinst.info
manufacinst.info
manufacinst.info
manufacinst.info
manufacinst.info
manufacinst.info
manufacinst.info
manufacinst.info
manufacinst.info
manufacinst.info
manufacinst.info
manufacinst.info
manufacinst.info
manufacinst.info
manufacinst.info
manufacinst.info
manufacinst.info
manufacinst.info
manufacinst.info
manufacinst.info
manufacinst.info
manufacinst.info
manufacinst.info
manufacinst.info
manufacinst.info
manufacinst.info
manufacinst.info
manufacinst.info
manufacinst.info
manufacinst.info
manufacinst.info
manufacinst.info
manufacinst.info
manufacinst.info
manufacinst.info
manufacinst.info
manufacinst.info
manufacinst.info
manufacinst.info
manufacinst.info
manufacinst.info
manufacinst.info
manufacinst.info
manufacinst.info
manufacinst.info
manufacinst.info
manufacinst.info
manufacinst.info
manufacinst.info
manufacinst.info
manufacinst.info
manufacinst.info
manufacinst.info
manufacinst.info
manufacinst.info
manufacinst.info
manufacinst.info
manufacinst.info
manufacinst.info
manufacinst.info
manufacinst.info
manufacinst.info
manufacinst.info
manufacinst.info
manufacinst.info
manufacinst.info
manufacinst.info
manufacinst.info
manufacinst.info
manufacinst.info
manufacinst.info
manufacinst.info
manufacinst.info
manufacinst.info
manufacinst.info
manufacinst.info
manufacinst.info
manufacinst.info
manufacinst.info
manufacinst.info
manufacinst.info
manufacinst.info
manufacinst.info
manufacinst.info
manufacinst.info
manufacinst.info
manufacinst.info
manufacinst.info
manufacinst.info
manufacinst.info
manufacinst.info
manufacinst.info
manufacinst.info
manufacinst.info
manufacinst.info
manufacinst.info
manufacinst.info
manufacinst.info
manufacinst.info
manufacinst.info
manufacinst.info
manufacinst.info
manufacinst.info
manufacinst.info
manufacinst.info
manufacinst.info
manufacinst.info
manufacinst.info
manufacinst.info
manufacinst.info
manufacinst.info
manufacinst.info
manufacinst.info
manufacinst.info
manufacinst.info
manufacinst.info
manufacinst.info
manufacinst.info
manufacinst.info
manufacinst.info
manufacinst.info
manufacinst.info
manufacinst.info
manufacinst.info
manufacinst.info
manufacinst.info
manufacinst.info
manufacinst.info
manufacinst.info
manufacinst.info
manufacinst.info
manufacinst.info
manufacinst.info
manufacinst.info
manufacinst.info
manufacinst.info
manufacinst.info
manufacinst.info
manufacinst.info
manufacinst.info
manufacinst.info
manufacinst.info
manufacinst.info
manufacinst.info
manufacinst.info
manufacinst.info
manufacinst.info
manufacinst.info
manufacinst.info
manufacinst.info
manufacinst.info
manufacinst.info
manufacinst.info
manufacinst.info
manufacinst.info
manufacinst.info
manufacinst.info
manufacinst.info
manufacinst.info
manufacinst.info
manufacinst.info
manufacinst.info
manufacinst.info
manufacinst.info
manufacinst.info
manufacinst.info
manufacinst.info
manufacinst.info
manufacinst.info
manufacinst.info
manufacinst.info
manufacinst.info
manufacinst.info
manufacinst.info
manufacinst.info
manufacinst.info
manufacinst.info
manufacinst.info
manufacinst.info
manufacinst.info
manufacinst.info
manufacinst.info
manufacinst.info
manufacinst.info
manufacinst.info
manufacinst.info
manufacinst.info
manufacinst.info
manufacinst.info
manufacinst.info
manufacinst.info
manufacinst.info
manufacinst.info
manufacinst.info
manufacinst.info
manufacinst.info
manufacinst.info
manufacinst.info
manufacinst.info
manufacinst.info
manufacinst.info
manufacinst.info
manufacinst.info
manufacinst.info
manufacinst.info
manufacinst.info
manufacinst.info
manufacinst.info
manufacinst.info
manufacinst.info
manufacinst.info
manufacinst.info
manufacinst.info
manufacinst.info
manufacinst.info
manufacinst.info
manufacinst.info
manufacinst.info
manufacinst.info
manufacinst.info
manufacinst.info
manufacinst.info
manufacinst.info
manufacinst.info
manufacinst.info
manufacinst.info
manufacinst.info
manufacinst.info
manufacinst.info
manufacinst.info
manufacinst.info
manufacinst.info
manufacinst.info
manufacinst.info
manufacinst.info
manufacinst.info
manufacinst.info
manufacinst.info
manufacinst.info
manufacinst.info
manufacinst.info
manufacinst.info
manufacinst.info
manufacinst.info
manufacinst.info
manufacinst.info
manufacinst.info
manufacinst.info
manufacinst.info
manufacinst.info
manufacinst.info
manufacinst.info
manufacinst.info
manufacinst.info
manufacinst.info
manufacinst.info
manufacinst.info
manufacinst.info
manufacinst.info
manufacinst.info
manufacinst.info
manufacinst.info
manufacinst.info
manufacinst.info
manufacinst.info
manufacinst.info
manufacinst.info
manufacinst.info
manufacinst.info
manufacinst.info
manufacinst.info
manufacinst.info
manufacinst.info
manufacinst.info
manufacinst.info
manufacinst.info
manufacinst.info
manufacinst.info
manufacinst.info
manufacinst.info
manufacinst.info
manufacinst.info
manufacinst.info
manufacinst.info
manufacinst.info
manufacinst.info
manufacinst.info
manufacinst.info
manufacinst.info
manufacinst.info
manufacinst.info
manufacinst.info
manufacinst.info
manufacinst.info
manufacinst.info
manufacinst.info
manufacinst.info
manufacinst.info
manufacinst.info
manufacinst.info
manufacinst.info
manufacinst.info
manufacinst.info
manufacinst.info
manufacinst.info
manufacinst.info
manufacinst.info
manufacinst.info
manufacinst.info
manufacinst.info
manufacinst.info
manufacinst.info
manufacinst.info
manufacinst.info
manufacinst.info
manufacinst.info
manufacinst.info
manufacinst.info
manufacinst.info
manufacinst.info
manufacinst.info
manufacinst.info
manufacinst.info
manufacinst.info
manufacinst.info
manufacinst.info
manufacinst.info
manufacinst.info
manufacinst.info
manufacinst.info
manufacinst.info
manufacinst.info
manufacinst.info
manufacinst.info
manufacinst.info
manufacinst.info
manufacinst.info
manufacinst.info
manufacinst.info
manufacinst.info
manufacinst.info
manufacinst.info
manufacinst.info
manufacinst.info
manufacinst.info
manufacinst.info
manufacinst.info
manufacinst.info
manufacinst.info
manufacinst.info
manufacinst.info
manufacinst.info
manufacinst.info
manufacinst.info
manufacinst.info
manufacinst.info
manufacinst.info
manufacinst.info
manufacinst.info
manufacinst.info
manufacinst.info
manufacinst.info
manufacinst.info
manufacinst.info
manufacinst.info
manufacinst.info
manufacinst.info
manufacinst.info
manufacinst.info
manufacinst.info
manufacinst.info
manufacinst.info
manufacinst.info
manufacinst.info
manufacinst.info
manufacinst.info
manufacinst.info
manufacinst.info
manufacinst.info
manufacinst.info
manufacinst.info
manufacinst.info
manufacinst.info
manufacinst.info
manufacinst.info
manufacinst.info
manufacinst.info
manufacinst.info
manufacinst.info
manufacinst.info
manufacinst.info
manufacinst.info
manufacinst.info
manufacinst.info
manufacinst.info
manufacinst.info
manufacinst.info
manufacinst.info
manufacinst.info
manufacinst.info
manufacinst.info
manufacinst.info
manufacinst.info
manufacinst.info
manufacinst.info
manufacinst.info
manufacinst.info
manufacinst.info
manufacinst.info
manufacinst.info
manufacinst.info
manufacinst.info
manufacinst.info
manufacinst.info
manufacinst.info
manufacinst.info
manufacinst.info
manufacinst.info
manufacinst.info
manufacinst.info
manufacinst.info
manufacinst.info
manufacinst.info
manufacinst.info
manufacinst.info
manufacinst.info
manufacinst.info
manufacinst.info
manufacinst.info
manufacinst.info
manufacinst.info
manufacinst.info
manufacinst.info
manufacinst.info
manufacinst.info
manufacinst.info
manufacinst.info
manufacinst.info
manufacinst.info
manufacinst.info
manufacinst.info
manufacinst.info
manufacinst.info
manufacinst.info
manufacinst.info
manufacinst.info
manufacinst.info
manufacinst.info
manufacinst.info
manufacinst.info
manufacinst.info
manufacinst.info
manufacinst.info
manufacinst.info
manufacinst.info
manufacinst.info
manufacinst.info
manufacinst.info
manufacinst.info
manufacinst.info
manufacinst.info
manufacinst.info
manufacinst.info
manufacinst.info
manufacinst.info
manufacinst.info
manufacinst.info
manufacinst.info
manufacinst.info
manufacinst.info
manufacinst.info
manufacinst.info
manufacinst.info
manufacinst.info
manufacinst.info
manufacinst.info
manufacinst.info
manufacinst.info
manufacinst.info
manufacinst.info
manufacinst.info
manufacinst.info
manufacinst.info
manufacinst.info
manufacinst.info
manufacinst.info
manufacinst.info
manufacinst.info
manufacinst.info
manufacinst.info
manufacinst.info
manufacinst.info
manufacinst.info
manufacinst.info
manufacinst.info
manufacinst.info
manufacinst.info
manufacinst.info
manufacinst.info
manufacinst.info
manufacinst.info
manufacinst.info
manufacinst.info
manufacinst.info
manufacinst.info
manufacinst.info
manufacinst.info
manufacinst.info
manufacinst.info
manufacinst.info
manufacinst.info
manufacinst.info
manufacinst.info
manufacinst.info
manufacinst.info
manufacinst.info
manufacinst.info
manufacinst.info
manufacinst.info
manufacinst.info
manufacinst.info
manufacinst.info
manufacinst.info
manufacinst.info
manufacinst.info
manufacinst.info
manufacinst.info
manufacinst.info
manufacinst.info
manufacinst.info
manufacinst.info
manufacinst.info
manufacinst.info
manufacinst.info
manufacinst.info
manufacinst.info
manufacinst.info
manufacinst.info
manufacinst.info
manufacinst.info
manufacinst.info
manufacinst.info
manufacinst.info
manufacinst.info
manufacinst.info
manufacinst.info
manufacinst.info
manufacinst.info
manufacinst.info
manufacinst.info
manufacinst.info
manufacinst.info
manufacinst.info
manufacinst.info
manufacinst.info
manufacinst.info
manufacinst.info
manufacinst.info
manufacinst.info
manufacinst.info
manufacinst.info
manufacinst.info
manufacinst.info
manufacinst.info
manufacinst.info
manufacinst.info
manufacinst.info
manufacinst.info
manufacinst.info
manufacinst.info
manufacinst.info
manufacinst.info
manufacinst.info
manufacinst.info
manufacinst.info
manufacinst.info
manufacinst.info
manufacinst.info
manufacinst.info
manufacinst.info
manufacinst.info
manufacinst.info
manufacinst.info
manufacinst.info
manufacinst.info
manufacinst.info
manufacinst.info
manufacinst.info
manufacinst.info
manufacinst.info
manufacinst.info
manufacinst.info
manufacinst.info
manufacinst.info
manufacinst.info
manufacinst.info
manufacinst.info
manufacinst.info
manufacinst.info
manufacinst.info
manufacinst.info
manufacinst.info
manufacinst.info
manufacinst.info
manufacinst.info
manufacinst.info
manufacinst.info
manufacinst.info
manufacinst.info
manufacinst.info
manufacinst.info
manufacinst.info
manufacinst.info
manufacinst.info
manufacinst.info
manufacinst.info
manufacinst.info
manufacinst.info
manufacinst.info
manufacinst.info
manufacinst.info
manufacinst.info
manufacinst.info
manufacinst.info
manufacinst.info
manufacinst.info
manufacinst.info
manufacinst.info
manufacinst.info
manufacinst.info
manufacinst.info
manufacinst.info
manufacinst.info
manufacinst.info
manufacinst.info
manufacinst.info
manufacinst.info
manufacinst.info
manufacinst.info
manufacinst.info
manufacinst.info
manufacinst.info
manufacinst.info
manufacinst.info
manufacinst.info
manufacinst.info
manufacinst.info
manufacinst.info
manufacinst.info
manufacinst.info
manufacinst.info
manufacinst.info
manufacinst.info
manufacinst.info
manufacinst.info
manufacinst.info
manufacinst.info
manufacinst.info
manufacinst.info
manufacinst.info
manufacinst.info
manufacinst.info
manufacinst.info
manufacinst.info
manufacinst.info
manufacinst.info
manufacinst.info
manufacinst.info
manufacinst.info
manufacinst.info
manufacinst.info
manufacinst.info
manufacinst.info
manufacinst.info
manufacinst.info
manufacinst.info
manufacinst.info
manufacinst.info
manufacinst.info
manufacinst.info
manufacinst.info
manufacinst.info
manufacinst.info
manufacinst.info
manufacinst.info
manufacinst.info
manufacinst.info
manufacinst.info
manufacinst.info
manufacinst.info
manufacinst.info
manufacinst.info
manufacinst.info
manufacinst.info
manufacinst.info
manufacinst.info
manufacinst.info
manufacinst.info
manufacinst.info
manufacinst.info
manufacinst.info
manufacinst.info
manufacinst.info
manufacinst.info
manufacinst.info
manufacinst.info
manufacinst.info
manufacinst.info
manufacinst.info
manufacinst.info
manufacinst.info
manufacinst.info
manufacinst.info
manufacinst.info
manufacinst.info
manufacinst.info
manufacinst.info
manufacinst.info
manufacinst.info
manufacinst.info
manufacinst.info
manufacinst.info
manufacinst.info
manufacinst.info
manufacinst.info
manufacinst.info
manufacinst.info
manufacinst.info
manufacinst.info
manufacinst.info
manufacinst.info
manufacinst.info
manufacinst.info
manufacinst.info
manufacinst.info
manufacinst.info
manufacinst.info
manufacinst.info
manufacinst.info
manufacinst.info
manufacinst.info
manufacinst.info
manufacinst.info
manufacinst.info
manufacinst.info
manufacinst.info
manufacinst.info
manufacinst.info
manufacinst.info
manufacinst.info
manufacinst.info
manufacinst.info
manufacinst.info
manufacinst.info
manufacinst.info
manufacinst.info
manufacinst.info
manufacinst.info
manufacinst.info
manufacinst.info
manufacinst.info
manufacinst.info
manufacinst.info
manufacinst.info
manufacinst.info
manufacinst.info
manufacinst.info
manufacinst.info
manufacinst.info
manufacinst.info
manufacinst.info
manufacinst.info
manufacinst.info
manufacinst.info
manufacinst.info
manufacinst.info
manufacinst.info
manufacinst.info
manufacinst.info
manufacinst.info
manufacinst.info
manufacinst.info
manufacinst.info
manufacinst.info
manufacinst.info
manufacinst.info
manufacinst.info
manufacinst.info
manufacinst.info
manufacinst.info
manufacinst.info
manufacinst.info
manufacinst.info
manufacinst.info
manufacinst.info
manufacinst.info
manufacinst.info
manufacinst.info
manufacinst.info
manufacinst.info
manufacinst.info
manufacinst.info
manufacinst.info
manufacinst.info
manufacinst.info
manufacinst.info
manufacinst.info
manufacinst.info
manufacinst.info
manufacinst.info
manufacinst.info
manufacinst.info
manufacinst.info
manufacinst.info
manufacinst.info
manufacinst.info
manufacinst.info
manufacinst.info
manufacinst.info
manufacinst.info
manufacinst.info
manufacinst.info
manufacinst.info
manufacinst.info
manufacinst.info
manufacinst.info
manufacinst.info
manufacinst.info
manufacinst.info
manufacinst.info
manufacinst.info
manufacinst.info
manufacinst.info
manufacinst.info
manufacinst.info
manufacinst.info
manufacinst.info
manufacinst.info
manufacinst.info
manufacinst.info
manufacinst.info
manufacinst.info
manufacinst.info
manufacinst.info
manufacinst.info
manufacinst.info
manufacinst.info
manufacinst.info
manufacinst.info
manufacinst.info
manufacinst.info
manufacinst.info
manufacinst.info
manufacinst.info
manufacinst.info
manufacinst.info
manufacinst.info
manufacinst.info
manufacinst.info
manufacinst.info
manufacinst.info
manufacinst.info
manufacinst.info
manufacinst.info
manufacinst.info
manufacinst.info
manufacinst.info
manufacinst.info
manufacinst.info
manufacinst.info
manufacinst.info
manufacinst.info
manufacinst.info
manufacinst.info
manufacinst.info
manufacinst.info
manufacinst.info
manufacinst.info
manufacinst.info
manufacinst.info
manufacinst.info
manufacinst.info
manufacinst.info
manufacinst.info
manufacinst.info
manufacinst.info
manufacinst.info
manufacinst.info
manufacinst.info
manufacinst.info
manufacinst.info
manufacinst.info
manufacinst.info
manufacinst.info
manufacinst.info
manufacinst.info
manufacinst.info
manufacinst.info
manufacinst.info
manufacinst.info
manufacinst.info
manufacinst.info
manufacinst.info
manufacinst.info
manufacinst.info
manufacinst.info
manufacinst.info
manufacinst.info
manufacinst.info
manufacinst.info
manufacinst.info
manufacinst.info
manufacinst.info
manufacinst.info
manufacinst.info
manufacinst.info
manufacinst.info
manufacinst.info
manufacinst.info
manufacinst.info
manufacinst.info
manufacinst.info
manufacinst.info
manufacinst.info
manufacinst.info
manufacinst.info
manufacinst.info
manufacinst.info
manufacinst.info
manufacinst.info
manufacinst.info
manufacinst.info
manufacinst.info
manufacinst.info
manufacinst.info
manufacinst.info
manufacinst.info
manufacinst.info
manufacinst.info
manufacinst.info
manufacinst.info
manufacinst.info
manufacinst.info
manufacinst.info
manufacinst.info
manufacinst.info
manufacinst.info
manufacinst.info
manufacinst.info
manufacinst.info
manufacinst.info
manufacinst.info
manufacinst.info
manufacinst.info
manufacinst.info
manufacinst.info
manufacinst.info
manufacinst.info
manufacinst.info
manufacinst.info
manufacinst.info
manufacinst.info
manufacinst.info
manufacinst.info
manufacinst.info
manufacinst.info
manufacinst.info
manufacinst.info
manufacinst.info
manufacinst.info
manufacinst.info
manufacinst.info
manufacinst.info
manufacinst.info
manufacinst.info
manufacinst.info
manufacinst.info
manufacinst.info
manufacinst.info
manufacinst.info
manufacinst.info
manufacinst.info
manufacinst.info
manufacinst.info
manufacinst.info
manufacinst.info
manufacinst.info
manufacinst.info
manufacinst.info
manufacinst.info
manufacinst.info
manufacinst.info
manufacinst.info
manufacinst.info
manufacinst.info
manufacinst.info
manufacinst.info
manufacinst.info
manufacinst.info
manufacinst.info
manufacinst.info
manufacinst.info
manufacinst.info
manufacinst.info
manufacinst.info
manufacinst.info
manufacinst.info
manufacinst.info
manufacinst.info
manufacinst.info
manufacinst.info
manufacinst.info
manufacinst.info
manufacinst.info
manufacinst.info
manufacinst.info
manufacinst.info
manufacinst.info
manufacinst.info
manufacinst.info
manufacinst.info
manufacinst.info
manufacinst.info
manufacinst.info
manufacinst.info
manufacinst.info
manufacinst.info
manufacinst.info
manufacinst.info
manufacinst.info
manufacinst.info
manufacinst.info
manufacinst.info
manufacinst.info
manufacinst.info
manufacinst.info
manufacinst.info
manufacinst.info
manufacinst.info
manufacinst.info
manufacinst.info
manufacinst.info
manufacinst.info
manufacinst.info
manufacinst.info
manufacinst.info
manufacinst.info
manufacinst.info
manufacinst.info
manufacinst.info
manufacinst.info
manufacinst.info
manufacinst.info
manufacinst.info
manufacinst.info
manufacinst.info
manufacinst.info
manufacinst.info
manufacinst.info
manufacinst.info
manufacinst.info
manufacinst.info
manufacinst.info
manufacinst.info
manufacinst.info
manufacinst.info
manufacinst.info
manufacinst.info
manufacinst.info
manufacinst.info
manufacinst.info
manufacinst.info
manufacinst.info
manufacinst.info
manufacinst.info
manufacinst.info
manufacinst.info
manufacinst.info
manufacinst.info
manufacinst.info
manufacinst.info
manufacinst.info
manufacinst.info
manufacinst.info
manufacinst.info
manufacinst.info
manufacinst.info
manufacinst.info
manufacinst.info
manufacinst.info
manufacinst.info
manufacinst.info
manufacinst.info
manufacinst.info
manufacinst.info
manufacinst.info
manufacinst.info
manufacinst.info
manufacinst.info
manufacinst.info
manufacinst.info
manufacinst.info
manufacinst.info
manufacinst.info
manufacinst.info
manufacinst.info
manufacinst.info
manufacinst.info
manufacinst.info
manufacinst.info
manufacinst.info
manufacinst.info
manufacinst.info
manufacinst.info
manufacinst.info
manufacinst.info
manufacinst.info
manufacinst.info
manufacinst.info
manufacinst.info
manufacinst.info
manufacinst.info
manufacinst.info
manufacinst.info
manufacinst.info
manufacinst.info
manufacinst.info
manufacinst.info
manufacinst.info
manufacinst.info
manufacinst.info
manufacinst.info
manufacinst.info
manufacinst.info
manufacinst.info
manufacinst.info
manufacinst.info
manufacinst.info
manufacinst.info
manufacinst.info
manufacinst.info
manufacinst.info
manufacinst.info
manufacinst.info
manufacinst.info
manufacinst.info
manufacinst.info
manufacinst.info
manufacinst.info
manufacinst.info
manufacinst.info
manufacinst.info
manufacinst.info
manufacinst.info
manufacinst.info
manufacinst.info
manufacinst.info
manufacinst.info
manufacinst.info
manufacinst.info
manufacinst.info
manufacinst.info
manufacinst.info
manufacinst.info
manufacinst.info
manufacinst.info
manufacinst.info
manufacinst.info
manufacinst.info
manufacinst.info
manufacinst.info
manufacinst.info
manufacinst.info
manufacinst.info
manufacinst.info
manufacinst.info
manufacinst.info
manufacinst.info
manufacinst.info
manufacinst.info
manufacinst.info
manufacinst.info
manufacinst.info
manufacinst.info
manufacinst.info
manufacinst.info
manufacinst.info
manufacinst.info
manufacinst.info
manufacinst.info
manufacinst.info
manufacinst.info
manufacinst.info
manufacinst.info
manufacinst.info
manufacinst.info
manufacinst.info
manufacinst.info
manufacinst.info
manufacinst.info
manufacinst.info
manufacinst.info
manufacinst.info
manufacinst.info
manufacinst.info
manufacinst.info
manufacinst.info
manufacinst.info
manufacinst.info
manufacinst.info
manufacinst.info
manufacinst.info
manufacinst.info
manufacinst.info
manufacinst.info
manufacinst.info
manufacinst.info
manufacinst.info
manufacinst.info
manufacinst.info
manufacinst.info
manufacinst.info
manufacinst.info
manufacinst.info
manufacinst.info
manufacinst.info
manufacinst.info
manufacinst.info
manufacinst.info
manufacinst.info
manufacinst.info
manufacinst.info
manufacinst.info
manufacinst.info
manufacinst.info
manufacinst.info
manufacinst.info
manufacinst.info
manufacinst.info
manufacinst.info
manufacinst.info
manufacinst.info
manufacinst.info
manufacinst.info
manufacinst.info
manufacinst.info
manufacinst.info
manufacinst.info
manufacinst.info
manufacinst.info
manufacinst.info
manufacinst.info
manufacinst.info
manufacinst.info
manufacinst.info
manufacinst.info
manufacinst.info
manufacinst.info
manufacinst.info
manufacinst.info
manufacinst.info
manufacinst.info
manufacinst.info
manufacinst.info
manufacinst.info
manufacinst.info
manufacinst.info
manufacinst.info
manufacinst.info
manufacinst.info
manufacinst.info
manufacinst.info
manufacinst.info
manufacinst.info
manufacinst.info
manufacinst.info
manufacinst.info
manufacinst.info
manufacinst.info
manufacinst.info
manufacinst.info
manufacinst.info
manufacinst.info
manufacinst.info
manufacinst.info
manufacinst.info
manufacinst.info
manufacinst.info
manufacinst.info
manufacinst.info
manufacinst.info
manufacinst.info
manufacinst.info
manufacinst.info
manufacinst.info
manufacinst.info
manufacinst.info
manufacinst.info
manufacinst.info
manufacinst.info
manufacinst.info
manufacinst.info
manufacinst.info
manufacinst.info
manufacinst.info
manufacinst.info
manufacinst.info
manufacinst.info
manufacinst.info
manufacinst.info
manufacinst.info
manufacinst.info
manufacinst.info
manufacinst.info
manufacinst.info
manufacinst.info
manufacinst.info
manufacinst.info
manufacinst.info
manufacinst.info
manufacinst.info
manufacinst.info
manufacinst.info
manufacinst.info
manufacinst.info
manufacinst.info
manufacinst.info
manufacinst.info
manufacinst.info
manufacinst.info
manufacinst.info
manufacinst.info
manufacinst.info
manufacinst.info
manufacinst.info
manufacinst.info
manufacinst.info
manufacinst.info
manufacinst.info
manufacinst.info
manufacinst.info
manufacinst.info
manufacinst.info
manufacinst.info
manufacinst.info
manufacinst.info
manufacinst.info
manufacinst.info
manufacinst.info
manufacinst.info
manufacinst.info
manufacinst.info
manufacinst.info
manufacinst.info
manufacinst.info
manufacinst.info
manufacinst.info
manufacinst.info
manufacinst.info
manufacinst.info
manufacinst.info
manufacinst.info
manufacinst.info
manufacinst.info
manufacinst.info
manufacinst.info
manufacinst.info
manufacinst.info
manufacinst.info
manufacinst.info
manufacinst.info
manufacinst.info
manufacinst.info
manufacinst.info
manufacinst.info
manufacinst.info
manufacinst.info
manufacinst.info
manufacinst.info
manufacinst.info
manufacinst.info
manufacinst.info
manufacinst.info
manufacinst.info
manufacinst.info
manufacinst.info
manufacinst.info
manufacinst.info
manufacinst.info
manufacinst.info
manufacinst.info
manufacinst.info
manufacinst.info
manufacinst.info
manufacinst.info
manufacinst.info
manufacinst.info
manufacinst.info
manufacinst.info
manufacinst.info
manufacinst.info
manufacinst.info
manufacinst.info
manufacinst.info
manufacinst.info
manufacinst.info
manufacinst.info
manufacinst.info
manufacinst.info
manufacinst.info
manufacinst.info
manufacinst.info
manufacinst.info
manufacinst.info
manufacinst.info
manufacinst.info
manufacinst.info
manufacinst.info
manufacinst.info
manufacinst.info
manufacinst.info
manufacinst.info
manufacinst.info
manufacinst.info
manufacinst.info
manufacinst.info
manufacinst.info
manufacinst.info
manufacinst.info
manufacinst.info
manufacinst.info
manufacinst.info
manufacinst.info
manufacinst.info
manufacinst.info
manufacinst.info
manufacinst.info
manufacinst.info
manufacinst.info
manufacinst.info
manufacinst.info
manufacinst.info
manufacinst.info
manufacinst.info
manufacinst.info
manufacinst.info
manufacinst.info
manufacinst.info
manufacinst.info
manufacinst.info
manufacinst.info
manufacinst.info
manufacinst.info
manufacinst.info
manufacinst.info
manufacinst.info
manufacinst.info
manufacinst.info
manufacinst.info
manufacinst.info
manufacinst.info
manufacinst.info
manufacinst.info
manufacinst.info
manufacinst.info
manufacinst.info
manufacinst.info
manufacinst.info
manufacinst.info
manufacinst.info
manufacinst.info
manufacinst.info
manufacinst.info
manufacinst.info
manufacinst.info
manufacinst.info
manufacinst.info
manufacinst.info
manufacinst.info
manufacinst.info
manufacinst.info
manufacinst.info
manufacinst.info
manufacinst.info
manufacinst.info
manufacinst.info
manufacinst.info
manufacinst.info
manufacinst.info
manufacinst.info
manufacinst.info
manufacinst.info
manufacinst.info
manufacinst.info
manufacinst.info
manufacinst.info
manufacinst.info
manufacinst.info
manufacinst.info
manufacinst.info
manufacinst.info
manufacinst.info
manufacinst.info
manufacinst.info
manufacinst.info
manufacinst.info
manufacinst.info
manufacinst.info
manufacinst.info
manufacinst.info
manufacinst.info
manufacinst.info
manufacinst.info
manufacinst.info
manufacinst.info
manufacinst.info
manufacinst.info
manufacinst.info
manufacinst.info
manufacinst.info
manufacinst.info
manufacinst.info
manufacinst.info
manufacinst.info
manufacinst.info
manufacinst.info
manufacinst.info
manufacinst.info
manufacinst.info
manufacinst.info
manufacinst.info
manufacinst.info
manufacinst.info
manufacinst.info
manufacinst.info
manufacinst.info
manufacinst.info
manufacinst.info
manufacinst.info
manufacinst.info
manufacinst.info
manufacinst.info
manufacinst.info
manufacinst.info
manufacinst.info
manufacinst.info
manufacinst.info
manufacinst.info
manufacinst.info
manufacinst.info
manufacinst.info
manufacinst.info
manufacinst.info
manufacinst.info
manufacinst.info
manufacinst.info
manufacinst.info
manufacinst.info
manufacinst.info
manufacinst.info
manufacinst.info
manufacinst.info
manufacinst.info
manufacinst.info
manufacinst.info
manufacinst.info
manufacinst.info
manufacinst.info
manufacinst.info
manufacinst.info
manufacinst.info
manufacinst.info
manufacinst.info
manufacinst.info
manufacinst.info
manufacinst.info
manufacinst.info
manufacinst.info
manufacinst.info
manufacinst.info
manufacinst.info
manufacinst.info
manufacinst.info
manufacinst.info
manufacinst.info
manufacinst.info
manufacinst.info
manufacinst.info
manufacinst.info
manufacinst.info
manufacinst.info
manufacinst.info
manufacinst.info
manufacinst.info
manufacinst.info
manufacinst.info
manufacinst.info
manufacinst.info
manufacinst.info
manufacinst.info
manufacinst.info
manufacinst.info
manufacinst.info
manufacinst.info
manufacinst.info
manufacinst.info
manufacinst.info
manufacinst.info
manufacinst.info
manufacinst.info
manufacinst.info
manufacinst.info
manufacinst.info
manufacinst.info
manufacinst.info
manufacinst.info
manufacinst.info
manufacinst.info
manufacinst.info
manufacinst.info
manufacinst.info
manufacinst.info
manufacinst.info
manufacinst.info
manufacinst.info
manufacinst.info
manufacinst.info
manufacinst.info
manufacinst.info
manufacinst.info
manufacinst.info
manufacinst.info
manufacinst.info
manufacinst.info
manufacinst.info
manufacinst.info
manufacinst.info
manufacinst.info
manufacinst.info
manufacinst.info
manufacinst.info
manufacinst.info
manufacinst.info
manufacinst.info
manufacinst.info
manufacinst.info
manufacinst.info
manufacinst.info
manufacinst.info
manufacinst.info
manufacinst.info
manufacinst.info
manufacinst.info
manufacinst.info
manufacinst.info
manufacinst.info
manufacinst.info
manufacinst.info
manufacinst.info
manufacinst.info
manufacinst.info
manufacinst.info
manufacinst.info
manufacinst.info
manufacinst.info
manufacinst.info
manufacinst.info
manufacinst.info
manufacinst.info
manufacinst.info
manufacinst.info
manufacinst.info
manufacinst.info
manufacinst.info
manufacinst.info
manufacinst.info
manufacinst.info
manufacinst.info
manufacinst.info
manufacinst.info
manufacinst.info
manufacinst.info
manufacinst.info
manufacinst.info
manufacinst.info
manufacinst.info
manufacinst.info
manufacinst.info
manufacinst.info
manufacinst.info
manufacinst.info
manufacinst.info
manufacinst.info
manufacinst.info
manufacinst.info
manufacinst.info
manufacinst.info
manufacinst.info
manufacinst.info
manufacinst.info
manufacinst.info
manufacinst.info
manufacinst.info
manufacinst.info
manufacinst.info
manufacinst.info
manufacinst.info
manufacinst.info
manufacinst.info
manufacinst.info
manufacinst.info
manufacinst.info
manufacinst.info
manufacinst.info
manufacinst.info
manufacinst.info
manufacinst.info
manufacinst.info
manufacinst.info
manufacinst.info
manufacinst.info
manufacinst.info
manufacinst.info
manufacinst.info
manufacinst.info
manufacinst.info
manufacinst.info
manufacinst.info
manufacinst.info
manufacinst.info
manufacinst.info
manufacinst.info
manufacinst.info
manufacinst.info
manufacinst.info
manufacinst.info
manufacinst.info
manufacinst.info
manufacinst.info
manufacinst.info
manufacinst.info
manufacinst.info
manufacinst.info
manufacinst.info
manufacinst.info
manufacinst.info
manufacinst.info
manufacinst.info
manufacinst.info
manufacinst.info
manufacinst.info
manufacinst.info
manufacinst.info
manufacinst.info
manufacinst.info
manufacinst.info
manufacinst.info
manufacinst.info
manufacinst.info
manufacinst.info
manufacinst.info
manufacinst.info
manufacinst.info
manufacinst.info
manufacinst.info
manufacinst.info
manufacinst.info
manufacinst.info
manufacinst.info
manufacinst.info
manufacinst.info
manufacinst.info
manufacinst.info
manufacinst.info
manufacinst.info
manufacinst.info
manufacinst.info
manufacinst.info
manufacinst.info
manufacinst.info
manufacinst.info
manufacinst.info
manufacinst.info
manufacinst.info
manufacinst.info
manufacinst.info
manufacinst.info
manufacinst.info
manufacinst.info
manufacinst.info
manufacinst.info
manufacinst.info
manufacinst.info
manufacinst.info
manufacinst.info
manufacinst.info
manufacinst.info
manufacinst.info
manufacinst.info
manufacinst.info
manufacinst.info
manufacinst.info
manufacinst.info
manufacinst.info
manufacinst.info
manufacinst.info
manufacinst.info
manufacinst.info
manufacinst.info
manufacinst.info
manufacinst.info
manufacinst.info
manufacinst.info
manufacinst.info
manufacinst.info
manufacinst.info
manufacinst.info
manufacinst.info
manufacinst.info
manufacinst.info
manufacinst.info
manufacinst.info
manufacinst.info
manufacinst.info
manufacinst.info
manufacinst.info
manufacinst.info
manufacinst.info
manufacinst.info
manufacinst.info
manufacinst.info
manufacinst.info
manufacinst.info
manufacinst.info
manufacinst.info
manufacinst.info
manufacinst.info
manufacinst.info
manufacinst.info
manufacinst.info
manufacinst.info
manufacinst.info
manufacinst.info
manufacinst.info
manufacinst.info
manufacinst.info
manufacinst.info
manufacinst.info
manufacinst.info
manufacinst.info
manufacinst.info
manufacinst.info
manufacinst.info
manufacinst.info
manufacinst.info
manufacinst.info
manufacinst.info
manufacinst.info
manufacinst.info
manufacinst.info
manufacinst.info
manufacinst.info
manufacinst.info
manufacinst.info
manufacinst.info
manufacinst.info
manufacinst.info
manufacinst.info
manufacinst.info
manufacinst.info
manufacinst.info
manufacinst.info
manufacinst.info
manufacinst.info
manufacinst.info
manufacinst.info
manufacinst.info
manufacinst.info
manufacinst.info
manufacinst.info
manufacinst.info
manufacinst.info
manufacinst.info
manufacinst.info
manufacinst.info
manufacinst.info
manufacinst.info
manufacinst.info
manufacinst.info
manufacinst.info
manufacinst.info
manufacinst.info
manufacinst.info
manufacinst.info
manufacinst.info
manufacinst.info
manufacinst.info
manufacinst.info
manufacinst.info
manufacinst.info
manufacinst.info
manufacinst.info
manufacinst.info
manufacinst.info
manufacinst.info
manufacinst.info
manufacinst.info
manufacinst.info
manufacinst.info
manufacinst.info
manufacinst.info
manufacinst.info
manufacinst.info
manufacinst.info
manufacinst.info
manufacinst.info
manufacinst.info
manufacinst.info
manufacinst.info
manufacinst.info
manufacinst.info
manufacinst.info
manufacinst.info
manufacinst.info
manufacinst.info
manufacinst.info
manufacinst.info
manufacinst.info
manufacinst.info
manufacinst.info
manufacinst.info
manufacinst.info
manufacinst.info
manufacinst.info
manufacinst.info
manufacinst.info
manufacinst.info
manufacinst.info
manufacinst.info
manufacinst.info
manufacinst.info
manufacinst.info
manufacinst.info
manufacinst.info
manufacinst.info
manufacinst.info
manufacinst.info
manufacinst.info
manufacinst.info
manufacinst.info
manufacinst.info
manufacinst.info
manufacinst.info
manufacinst.info
manufacinst.info
manufacinst.info
manufacinst.info
manufacinst.info
manufacinst.info
manufacinst.info
manufacinst.info
manufacinst.info
manufacinst.info
manufacinst.info
manufacinst.info
manufacinst.info
manufacinst.info
manufacinst.info
manufacinst.info
manufacinst.info
manufacinst.info
manufacinst.info
manufacinst.info
manufacinst.info
manufacinst.info
manufacinst.info
manufacinst.info
manufacinst.info
manufacinst.info
manufacinst.info
manufacinst.info
manufacinst.info
manufacinst.info
manufacinst.info
manufacinst.info
manufacinst.info
manufacinst.info
manufacinst.info
manufacinst.info
manufacinst.info
manufacinst.info
manufacinst.info
manufacinst.info
manufacinst.info
manufacinst.info
manufacinst.info
manufacinst.info
manufacinst.info
manufacinst.info
manufacinst.info
manufacinst.info
manufacinst.info
manufacinst.info
manufacinst.info
manufacinst.info
manufacinst.info
manufacinst.info
manufacinst.info
manufacinst.info
manufacinst.info
manufacinst.info
manufacinst.info
manufacinst.info
manufacinst.info
manufacinst.info
manufacinst.info
manufacinst.info
manufacinst.info
manufacinst.info
manufacinst.info
manufacinst.info
manufacinst.info
manufacinst.info
manufacinst.info
manufacinst.info
manufacinst.info
manufacinst.info
manufacinst.info
manufacinst.info
manufacinst.info
manufacinst.info
manufacinst.info
manufacinst.info
manufacinst.info
manufacinst.info
manufacinst.info
manufacinst.info
manufacinst.info
manufacinst.info
manufacinst.info
manufacinst.info
manufacinst.info
manufacinst.info
manufacinst.info
manufacinst.info
manufacinst.info
manufacinst.info
manufacinst.info
manufacinst.info
manufacinst.info
manufacinst.info
manufacinst.info
manufacinst.info
manufacinst.info
manufacinst.info
manufacinst.info
manufacinst.info
manufacinst.info
manufacinst.info
manufacinst.info
manufacinst.info
manufacinst.info
manufacinst.info
manufacinst.info
manufacinst.info
manufacinst.info
manufacinst.info
manufacinst.info
manufacinst.info
manufacinst.info
manufacinst.info
manufacinst.info
manufacinst.info
manufacinst.info
manufacinst.info
manufacinst.info
manufacinst.info
manufacinst.info
manufacinst.info
manufacinst.info
manufacinst.info
manufacinst.info
manufacinst.info
manufacinst.info
manufacinst.info
manufacinst.info
manufacinst.info
manufacinst.info
manufacinst.info
manufacinst.info
manufacinst.info
manufacinst.info
manufacinst.info
manufacinst.info
manufacinst.info
manufacinst.info
manufacinst.info
manufacinst.info
manufacinst.info
manufacinst.info
manufacinst.info
manufacinst.info
manufacinst.info
manufacinst.info
manufacinst.info
manufacinst.info
manufacinst.info
manufacinst.info
manufacinst.info
manufacinst.info
manufacinst.info
manufacinst.info
manufacinst.info
manufacinst.info
manufacinst.info
manufacinst.info
manufacinst.info
manufacinst.info
manufacinst.info
manufacinst.info
manufacinst.info
manufacinst.info
manufacinst.info
manufacinst.info
manufacinst.info
manufacinst.info
manufacinst.info
manufacinst.info
manufacinst.info
manufacinst.info
manufacinst.info
manufacinst.info
manufacinst.info
manufacinst.info
manufacinst.info
manufacinst.info
manufacinst.info
manufacinst.info
manufacinst.info
manufacinst.info
manufacinst.info
manufacinst.info
manufacinst.info
manufacinst.info
manufacinst.info
manufacinst.info
manufacinst.info
manufacinst.info
manufacinst.info
manufacinst.info
manufacinst.info
manufacinst.info
manufacinst.info
manufacinst.info
manufacinst.info
manufacinst.info
manufacinst.info
manufacinst.info
manufacinst.info
manufacinst.info
manufacinst.info
manufacinst.info
manufacinst.info
manufacinst.info
manufacinst.info
manufacinst.info
manufacinst.info
manufacinst.info
manufacinst.info
manufacinst.info
manufacinst.info
manufacinst.info
manufacinst.info
manufacinst.info
manufacinst.info